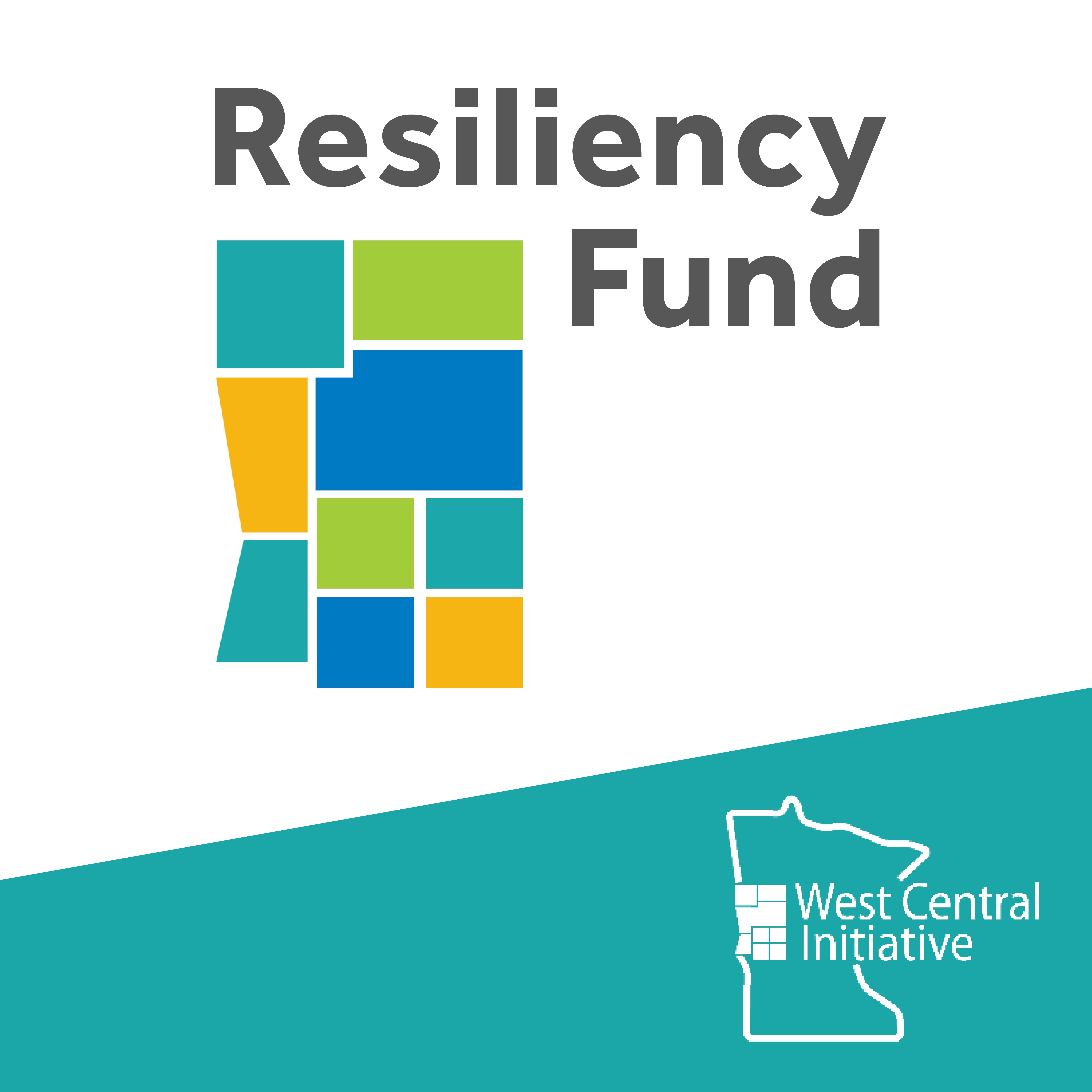 West Central Initiative awarded $191,000 in Resiliency Fund Grants to 21 organizations as part of our effort to help ensure a just and sustainable regional recovery from the long-term effects of the pandemic. 
These latest grants along with those awarded in 2020 combine for a total of more than $600,000 in Resiliency Fund Grants distributed in west central Minnesota. 
Twelve community members known for their work in sustainable development and promoting racial equity participated in awarding the dollars. "The community members who led this work are passionate about building healthy and vibrant communities for all, and that passion shows in the variety of projects supported," said Director of Development Rebecca Petersen. 
The grants had two focus areas: promoting an equitable region and building a sustainable region.
Promoting an Equitable Region
We awarded $100,000 in Promoting an Equitable Region Grants to the organizations below that serve and/or are led by Black people, Indigenous people, and people of color (BIPOC).
Afro American Development Association - $5,000 - Funds will support marginalized New Americans with individual assistance and culturally and linguistically attuned COVID-19 prevention and response messages.
Browns Valley Public School District 801 - $3,375 - The grant will provide educational materials for distance learning to students who otherwise would not receive them.
Cultural Diversity Resources - $10,000 - Funds will support the Antipoverty Project that empowers low-income BIPOC families to reduce poverty by increasing economic opportunities through employment and financial literacy, along with capacity-building methods used to increase funding, volunteers, and partners for future sustainability.
Immigrant Development Center - $3,375 - The grant will help New Americans impacted by the pandemic and promote the economic well-being of immigrants in and around the Moorhead/Fargo region.
Immigrant Law Center of Minnesota - $5,000 - Funds will support staff as they continue providing legal services and education to communities in west central Minnesota.
Indigenous Trades/Warriors Path - $10,000 - Funds will purchase a trailer, scaffolding, and PPE to help participants gain skills. 
Multicultural Resource Center - $10,000 - This Pelican Rapids group will use funds for one year of operating expenses, giving them a baseline of stability to acquire future funding resources.
New American Development Agency - $9,000 - Funds will educate and train readiness and self-sufficiency to BIPOC and New American families with limited English. 
Safe Families for Children - $5,000 - Serving Douglas, Pope, Traverse, Grant and Stevens Counties, the grant will help provide a circle of support through volunteers who assist struggling families, prevent child abuse and neglect, and help families remain intact.
Someplace Safe - $10,000 - This region-wide project features free monthly virtual group sessions for Indigenous youth, ages 12 to 18, who are at risk, exploited, or trafficked. 
South Sudanese Foundation - $10,000 - Its Relief Project serves New Americans and people of color in coping with and recovering from challenges caused by the pandemic.
The Birthing of a Diamond - $5,000 - Grants will help create a community task force with a goal of bridging gaps in accessing COVID-19 services.
The Written Gift - $3,375 - The grant will support eight counties in our region with planning health care and creating a clinical care system with policies that recognize the values and preferences of underserved community members.
Time for Change - $3,375 - This grant supports the Conversations that Matter initiative to enhance the current curriculum, program design, and community engagement plan.
Women's Initiative Network of Liberia in Cass and Clay Counties - $7,500 -  The grant supports tutoring needs of BIPOC students of single moms, whose academic studies have been negatively impacted by COVID-19.
Building a Sustainable Region
We awarded $91,000 in Building a Sustainable Region Grants to the organizations below. These organizations responded to the pandemic, leading to improvements in the area of sustainable development, with an emphasis on agriculture, local food systems, and climate action. 

Akiing Eighth Fire - $10,000 - This grant will help develop and deliver an online workshop to teach solar thermal installers from the region how to conduct site assessments, apply for rebates, and learn more of the science and best practices for solar thermal air furnace installations.
Detroit Lakes High School - $15,000 -  The grant will help purchase a new 35x60 greenhouse on the high school campus to educate students about sustainable growing practices.
Northern Plains Sustainable Agriculture Society - $25,000 - Through the New Roots Farm Incubator Cooperative, this project supports beginning farmers by providing access to land, technical support, and education to help underserved/BIPOC individuals launch small farm business enterprises.
Richland Wilkin Food Pantry - $25,000 - Funds will help establish a mobile unit to provide outreach to four rural communities in the Wilkin County region to increase accessibility and reduce greenhouse gas emissions.
The City of Morris - $7,000 - Funds will help bring expert speakers to facilitate online resiliency discussions with the Morris community, provide for a student communications intern, and support transportation/lodging for four consultants to facilitate an in-person resiliency workshop.
The Welcome Place - $9,000 - Funds will help build a permanent market space in downtown Pelican Rapids to provide a visible outlet for local food operators. This project will both provide healthy foods and give local residents, including New Americans, a pathway to start a business.
Learn more about our Resiliency Fund.