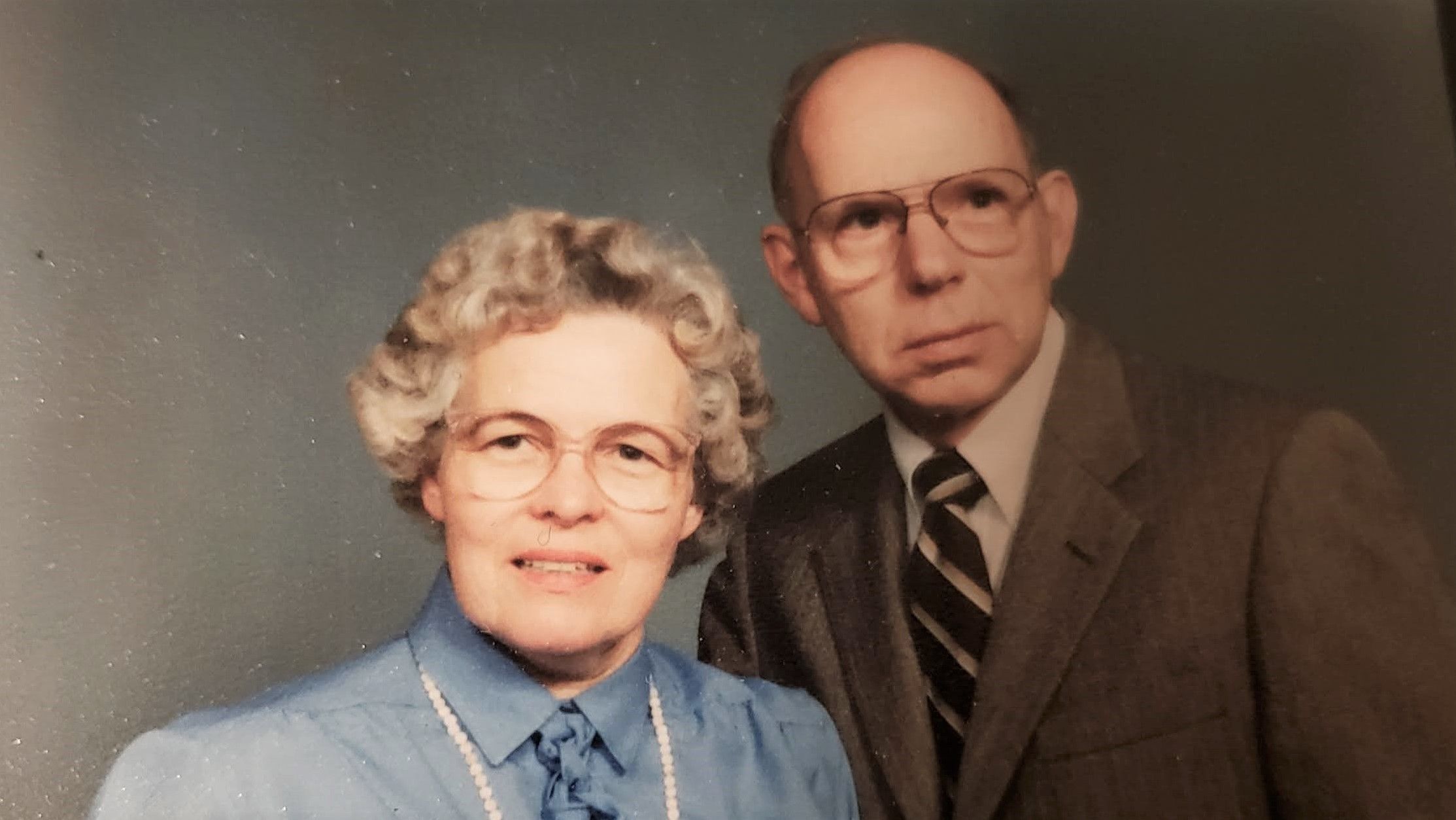 (The mission of the Virginia S. and Samuel P. Adams Tribute Fund is to advance the cultural and civic life of the Fergus Falls community and support the arts, music, literacy and books, history and green space. Consider your support for this amazing fund.)
On April 5, 2018, Fergus Falls Mayor Ben Schierer declared Virginia Adams Day during his State of the City address, saying, "She and her husband, Sam, were instrumental in the visioning that brought us Project 500, the industrial park and the development on the west side of town. The Library, Kaddatz Galleries, Wright Park, Grotto Lake, A Center for the Arts, Federated Church, the children's choir, this very (library) room that we are sitting in, and of course, Adams Park. We see her every day in the spirit of this community."*
The passing of "Ginny" Adams in August last year, just shy of her 93rd birthday, ended the family's multi-generational presence in Fergus Falls. Yet for her nephew David Hage, the Adams legacy should not only live on, but inspire future generosity.
"My wife, Therese, and I so admired the tireless energy that Ginny brought to making Fergus Falls a better place, as well as her passion for music, books, trees, parks, compassionate leaders and other things that make a vibrant community," Hage said.
"We were also mindful of her generosity in supporting local projects such as the Fergus Falls Library and A Center for the Arts. So, when Ginny died, we felt there should be a way to honor her legacy while ensuring continued support for the values that she and my Uncle Tuffy (Ginny's late husband Samuel) embraced."
Fergus Falls Mayor, Ben Schierer, helped connect the family with Rebecca Petersen, director of development for West Central Initiative. "Rebecca understood instantly and made everything happen," Hage said.
Petersen is proud to launch the Virginia S. and Samuel L. Adams Tribute Fund. The mission of the fund, Petersen said, is to advance the cultural and civic life of the Fergus Falls community and support the arts and music, literacy and books, history and green space.
"If you look at the projects Ginny supported over the years, they were all about improving people's quality of life," said Chris Schuelke, executive director of the Otter Tail County Historical Society. "She represented a generation that was selfless and community centered."*
Petersen explained that West Central Initiative manages philanthropic funds for communities, families and organizations throughout west central Minnesota. Rebecca knew Ginny personally through her previous work with arts organizations and knew the Adams family supported many assets of a healthy community.
WCI's First Tribute Fund
The new Tribute Fund, launched through support by Ginny's children, nieces and nephews, is designed to support the values and passions of Ginny and Tuffy. The family also wanted to leave it somewhat open-ended, with the idea that the people of Fergus Falls will best understand its needs and produce the best ideas to enrich the community in the future.
"Ginny encouraged many important projects, programs, and people in Fergus Falls. The Fergus Falls Public Library is one of the organizations that greatly benefited from her support," says Erin Smith, director of Viking Library System.*
This is the first tribute fund established through West Central Initiative. "Creating an endowed tribute fund honors you, your family or loved one now and into the future," Petersen explained. "This can be done during one's lifetime or after, assuring that someone's interests or causes are supported for generations to come."
Petersen said the Adams family legacy of community betterment and philanthropy in Fergus Falls continues now and well into the future. "Ginny, Sam and her family have supported Fergus Falls in so many ways.
"Now we, as a community, have a way of paying it forward," Petersen said.
Note: Donations to the Virginia S. and Samuel P. Adams Tribute Fund are now being accepted. To learn more about Tribute Funds or other ways to donate to the Tribute Fund, contact Rebecca Petersen at 218-998-1612.
Indented quotations (*) courtesy of the Fergus Falls Journal article August 11, 2020, "Local Philanthropist will Live on Through Singing Children."