Mobilizing a Community through the Minnesota Design Team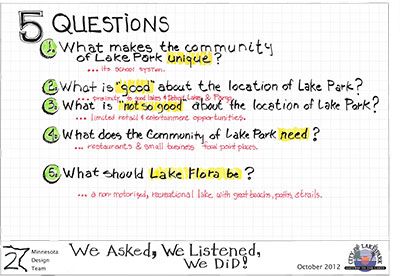 In October of 2012, the City of Lake Park took advantage of WCI's Community Mobilization Grant to help fund a visit from the Minnesota Design Team.
The Design Team spent a few days getting to know the city and working with residents and others (including some WCI staff!) to brainstorm and dream big.
And dream big they did--including plans to restore a lake that had been drained years before! The Design Team took everything and compiled it into a plan that includes short-term, mid-term, and long-term goals. You can see the final plan here.
What has happened in Lake Park since the Design Team's visit? Lonnie Neuner, Lake Park city clerk/treasurer, shared some of the work that's being done:
The school has plans for an educational nature area on the north side of the school property, which was a Design Team idea.
The city started looking into restoring Lake Flora in town. Discussions with the railroad may slow down the process. 
The Design Team brought up an idea of a pedestrian/biking bridge over the railroad tracks in the west side of town and having it as part of the Heartland Trail.
Some community members have formed an aesthetics committee and now meet regularly about small projects to make the downtown and other areas of town more attractive. So far the committee has put a new sign down by the highway and at the park but have other ideas in progress.
A developer is interested in purchasing part of the old high school to develop 55 and older apartments.
WCI's Community Mobilization Grant Program makes grants of up to $5,000 to help communities organize themselves to take coordinated community action.
Eligible projects include broad-based efforts that bring citizens together to map their community's resources and plan action that enhances their community's development and ability to address critical issues. These grants are not intended to support the strategic planning efforts of single organizations or multi-agency collaborations, but the citizens of geographically-defined communities, like cities or counties.
For more information, visit our website, or contact Program Director Wendy Merrick at wendy@wcif.org, or 800 739-2239.