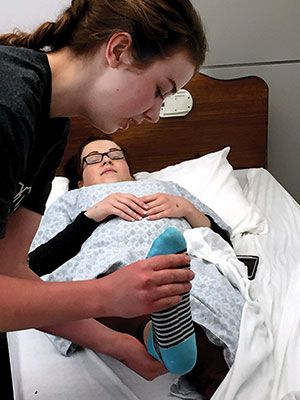 It's normal to start the day brushing one's teeth—not so normal if someone else is doing the brushing. On this spring morning however, nine students at Alexandria Area High School (AAHS) are taking turns doing just that—brushing each other's teeth. It's part of the Certified Nursing Assistant (CNA) program held in the high school, and one of the skills these students need to demonstrate to receive the CNA credential.
In this classroom turned lab, complete with beds and other equipment typically found in a healthcare facility, students actually don robes and get into bed, experiencing care from the patients' point of view along with the vulnerability that comes with relying on someone else to provide their personal care.
There is laughter and some faces made at having someone brush their teeth, but this is what the students have been trained to do, and they get down to business. Instructors with clipboards watch the procedure, checking off steps as they are accomplished and reminding students when one is missed. After the teeth brushing, the students move on to passive range of motion, gently moving their lab partner's arms and legs to help with their mobility. Teeth brushing and passive range of motion are just two of 52 skills the students will learn, 25 of which they will be tested on to receive their CNA credential.
The CNA class is a one-of-a-kind program at AAHS, and a great example of how an area employer, senior care organization Knute Nelson, and two educational institutions,  AAHS and Alexandria Technical & Community College (ATCC), put their heads and accumulative knowledge and expertise together to develop and run it. West Central Initiative awarded Knute Nelson Foundation a Competitive Workforce Grant to help start up the program.
ATCC already had a CNA program in their curriculum, but offering a program in the high school meant the course could be provided free of charge to the students, who would also receive college credit and  become eligible to work as a CNA.
While one of the goals is to help students receive certification so that they fill CNA openings in Alexandria, "the main goal of the program is to encourage a broad range of healthcare occupations," said Katie Perry, executive director of the Knute Nelson Foundation. "The CNA credential is highly regarded [in healthcare], and anyone over 16 years of age can work  as a CNA. It is a gateway to the next step. From the employer's point of view, it's about planning for healthcare career pathways. This beginning point is of first and foremost importance."
School counselor Carrie Urness has already seen a positive impact in offering this first step toward a career in healthcare as part of the high school curriculum. "For some students, it has solidified their going into nursing; others have said 'I'm glad I found out now,' that it's not what they want to do," she said. With 19 seniors, 22 juniors and 22 sophomores expressing interest in the CNA program, students are definitely seeing the value in what the credential can do for them and for their future, Urness said. "For some, this will be their employment. But there's such a wide range of different employment levels. It's a good opportunity for all."
The teens in this CNA class included students taking the certification as a step toward a nursing or medical career, and one who is interested in clinical social work.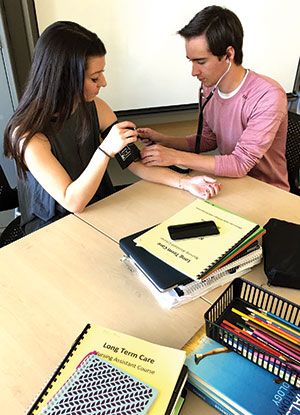 A Collaborative Effort
The number of people involved in delivering this program is impressive. AAHS Science Teacher Meg Simon runs the program, which includes both classroom study and lab work. ATCC instructors Deb Brasie, Amber Nelson and Kellie Weisel come to the high school to present modules and teach skills—just as they would at ATCC.
"We're out of our world and into theirs," said Nelson. "Although they go to ATCC five times during the course, the [WCI Competitive Workforce Grant] and Knute Nelson helped outfit the lab right here in the high school." 
ATCC Senior Dean of Academic Affairs and Students Gregg Raisenen credits the hard work of the faculty and their enthusiasm for the program in helping make it a success. "They're hustling, but overall it's a positive experience. It's a great example of partnerships between college, a high school and industry," he said.
Alexandria District Superintendent Julie Critz agrees. "There have been positive comments from parents about how valuable the CNA program is for their children in terms of career and looking for jobs. Through our academy structure and through partnerships we can build a certification program in all our academies. This is the first one."
"It's creating winning scenarios all around for students, employers, schools and parents," Perry added. "We're extremely grateful for the grant and what we have been able to pilot and produce."