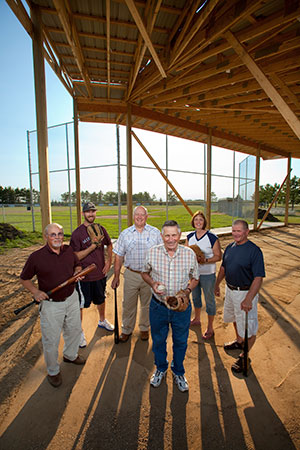 Baseball has a rich, deep history in the town of Deer Creek (pop. 322), ever since 1948 when Elmer Becker started the first town ball league. The town still talks about its 1970 championship win in the state amateur B baseball tournament.
"This is the best thing that ever happened to Deer Creek. Why, do you know that we darn near had to lock up the town last Saturday and Sunday? It's just great," then Mayor Lyle Hayden told the local paper. The Becker family has been an integral part of baseball's history.
Elmer played and coached the game most of his life. All six of his sons played ball. He taught them his unique style of throwing right handed and batting left handed. The Beckers helped out when the new field was constructed at the west edge of town in 1980. Appropriately, it was named Elmer Becker Park.
HOW TO BUILD A BETTER BALL PARK
For many years, the only upgrades to the park were for grounds maintenance, but lately a lot has changed, like brand new dugouts and a shiny new fence; and you can see the start of an impressive looking structure that will soon be a covered grandstand, complete with a press box. The upgrades come thanks to an initiative to raise enough funds from the community, using a component fund set up at West Central Initiative called the Deer Creek Baseball Park Restoration Fund.
The fund's advisory committee has big plans. "We are working to restore and upgrade the current ball field to a place where amateur baseball, Legion, VFW and school teams can play both day and night games for many years to come," said fund advisor Diane George. "To do this, we need the support of the entire community and surrounding area."
While upgrades have been completed, the advisors hope to raise enough for lights and a concession stand with modern restrooms. The lights are of particular importance because of the loss of nearby Wadena's ball field when a tornado ripped through that town in 2010. Wadena is 10 miles from Deer Creek.
When they heard that Wadena would not rebuild their ball park, "that's when we started thinking big," Diane said. Why not create a ball field that would be an asset to the greater area?
"Baseball is pretty important here. It's a tradition. Any time you bring people into town it's good," said Don Becker, Elmer's son, who also serves as a fund advisor.
From the outset the advisors were looking to complete the renovations in three phases. "We made an agreement that we wouldn't start a project unless we knew we had the money to complete it," Diane said. There plan is to complete the final phase by 2014.
In the six months they have been actively fundraising, the group has raised $142,000, which includes generous grants from the Twins Baseball Community Fund and the Bremer Foundation.
Lloyd Paulson of Moorhead, in memory of his wife, Beverly, and in honor of family and friends in the Deer Creek area, provided a challenge to the area community. He agreed to match dollar for dollar up to $25,000. That match was met.
The amount needed to complete all of the renovations is $300,000. With each phase completed, both the advisory committee and Deer Creek residents gain confidence in their ability to reach their goal.
"When we first started, people didn't believe we could do this," said Diane.
IT'S A TEAM EFFORT
One of biggest hurdles early on was trying to find a 501(c)3 nonprofit that would act as fiscal host for the restoration project. Then they learned about WCI and its component funds.
WCI's component funds allow advisor committees to focus on the charitable need and leave the administrative tasks to WCI. This partnership ensures that local needs are met and all financial transactions meet state and federal guidelines. Along with these community-based funds are business funds, family trust funds and some organizational funds.
The committee has appreciated WCI's expertise, receptiveness and promptness, they said.
WCI Donor Services Officer Tom McSparron works closely with the advisors to offer technical assistance.
"Any time we need someone to explain something he's here to help," fund advisor Randy Stave said.
A successful component fund relies on an active, engaged advisory committee. That describes the Deer Creek fund advisors to a tee.
"We have a good strong group with a lot of experience," said fund advisor Russ Martinson.
Diane serves as the chair of the committee. "Diane has been a real key person, without her I don't think it would have happened," added Jayme George, who also serves on the advisory committee.
The City of Deer Creek has been very supportive and involved, as well. They have agreed to extend the water and sewer systems to the ball park. They also are a fiscal agent for the fund. WCI transfers money to the city and they in turn pay the construction bills for the ball park.
Together, this team of WCI, the City of Deer Creek and a group of dedicated citizens has accomplished a lot in a relatively short time.
What would Elmer think of this project? Donny smiled. "It's pretty nice. He wouldn't believe it."
"I bet he's smiling from ear to ear," Jayme replied.