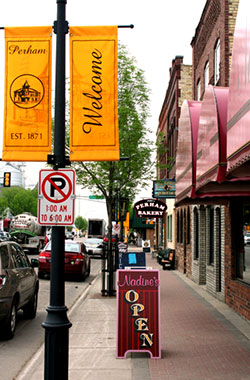 Perham EDA Director Chuck Johnson shared with us the essay he wrote about his town to pique the interest of the Fargo Forum. It worked! The newspaper featured Perham in its August 8, 2013 edition.
Perham is the "Little Town that Could," because it's full of "People who Can."
This town of less than 3,000 serves as job center for more than 3,200 people--more jobs than people! Its schools have earned the title "School of Champions." Its hospital was named one of America's Top 100 a few years ago, and opened a stunning $35 million facility 15 months ago. Perham Public Library has been named as one of top 100 Libraries in US three times. It's a town full of projects that emanate from fundraisers and sweat equity.
Common theme in the statements above: leadership and can-do attitude. When a problem or need arises, Perham folks don't gnash their teeth and say "somebody" should take care of it. They band together, define the problem or need and say "We're gonna take care of it." And they do.
Some partnerships are private. Some are public. And some are private/public. Methodology and turf protection are irrelevant, the only thing that matters is solution and outcome.
Cases in point:
•Clubhouse at 27-hole municipal golf course needed replacing. Fundraiser ensued, and Mulligan's (now SteVelly's) was built. Private funds donated for 8,200 sf public building on public golf course.
•A need to uniquely preserve memories of America's (Perham's) veterans. Sleeves rolled up, fundraiser ensued and ITOW (In Their Own Words) created, perhaps America's most unique military museum.
•Perham's 80-year-old baseball grandstand (1930's WPA project) became unsafe and was demolished. Grandstand Committee formed, plans generated, fundraiser ensued, and grandstand constructed (lots of sweat equity). All within 4 months!
•66,000 SF Perham Area Community Center is a crown-jewel. Constructed entirely with (mostly donated) local funds. About 230,000 people per year use PACC for one reason or another.
•Perham Health's hospital and clinic had become outmoded. After several years of planning and saving, they were eager to proceed. But a $16 million project morphed into $35 million, and more down payment was needed. No problem. Fundraiser ensued, and $3.5 million later, construction proceeded on marvelous new facility.
WCI's community breakfast in PerhamPerham's "can-do" attitude extends beyond bricks and mortar, though.
Once again, cases in point:
•Kinship and Boys and Girls Club are recent additions to long-standing lineup of activities available for Perham area youth
•Perham's School of Champions ranks near the top yearly in Minnesota's Challenge Cup. In the last 10 years: 13 state championship teams, 36 individual state champs and 8 academic team championships. And two national coaching champions in the last 4 years, basketball and cross country.
•Churches have always been community foundations, two new congregations created in recent years!
Perham's business community is the champion of champions. Cases in point:
•Employment (3,200) exceeds population (2,985). And it's growing, with five expansions exceeding $31 million in 2013.
•Regionally and nationally-recognized names include Barrel O' Fun, Tuffy's, Kenny's Candies, Bongards, Arvig, KitMasters and Industrial Finishing Services.
•Perham industries export to approximately 21 countries.
For years, Perham has shown that the Little Town that Could…Can.