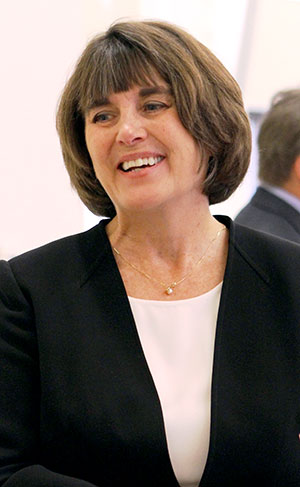 No Reason to Leave
What if you never had a reason to leave the area where you grew up? Even though she has had opportunities, Otter Tail County District Court Judge Barb Hanson has never seriously considered living outside of "lakes country" Minnesota.
"Life is good here," Hanson says. "When you can work and raise a family, have good, close associations with family, friends and people you work with, and have a rewarding career, there is no reason to leave."
A Rewarding Career
Hanson worked as a legal secretary in Perham, Minn. before attending law school at the University of North Dakota, just a couple of hours from her hometown of Vergas. During law school, she worked for the Otter Tail County attorney. Hanson later accepted a job as an assistant county attorney, which she held for 18 years. In 2005, she was appointed one of the county's district judges.
Law school is a big investment. Those who pass the bar exam have strong motivation to find work. Hanson knew that had she not been able to build a career close to home, she would have had to consider a move to a more metropolitan area. It was not anything she relished. When asked during an interview with one law firm what she thought was the best thing about law school, she told them, "The weekends. That's when I go back home. I kind of regenerate on the weekends." She laughs as she recalls this. "Needless to say I didn't get that job."
Hanson became an attorney when there were few women in the profession. She found that some people refused to discuss legal matters with her. If she had been in private practice, she may have been encouraged to work only with divorce and custody cases. Instead, through her work at the county attorney's office and on the bench, Hanson has found personal satisfaction working on many cases, from criminal cases to child protection matters, and seeing people change their lives for the better.
Urban-rural stereotypes persist even in the legal profession. "Within the legal community, I think that there's still that concept that the big city attorney is more skilled or more successful in promoting their cause," Hanson says. She sees no truth in this, and shares that local judges and juries are not always appreciative of the "big city attorney" approach.
"I think it's fair to say that attorneys in the metro are more contentious with one another," Hanson explains, adding that, in smaller communities, you usually know each attorney you deal with and what the judges expect of you. "Your reputation is valuable; you will encounter the same people again and again in a small community. Next time you may be working together instead of in opposition to one another, so it is important to preserve relationships."
Advantages of Smaller Communities
Living in Fergus Falls, Hanson has enjoyed getting to know and work with a wide range of people, not just people in her profession. In an urban setting, you may connect with more people in your same field or profession, she says, but in smaller communities, there are opportunities to be more and do more. For example, she thinks recreational activities like coaching, hunting, water and winter sports, and golf are more abundant, accessible and affordable.
For those who feel neighbors know your business more in rural areas, Hanson points out that small communities exist within urban areas, too. Neighbors look out for neighbors in communities of all sizes. While visiting her nephew's urban home, she says, "I was poking around in the flower beds and the neighbor was right there to strike up a conversation and try to figure out who I was and what I was doing there."
Family Ties
One reason people live where they do is strong family ties. That is a primary reason the Hansons have stayed in west central Minnesota. Both she and her husband have family nearby. They even plan to retire near the farm where Hanson grew up. She is looking forward to moving out to a more rural setting so she can see the horizon and enjoy Minnesota's beautiful sunrises and sunsets.
Hanson's daughter has also chosen a career in law, and practices within an hour's drive of her parents' home. She loves her work, works hard and keeps very busy, Hanson says. "In her words, she gets to work where other people come to vacation."
Like mother, like daughter, with no reason to leave.