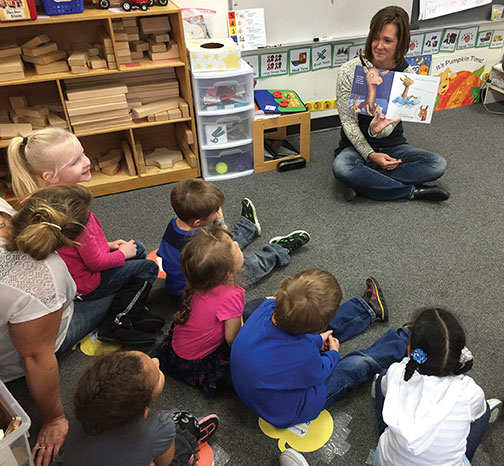 ECI Forges Partnerships to Inspire Young Lives
Anita Price arrived at a Head Start classroom in Detroit Lakes, books in tow, and sank onto the floor amid the 3-year-olds.
"I'm a mommy," she told them. "I have three children."
She answered their eager questions—how old were her children; was she a grandma—and then the Kiwanis member got to the heart of her visit: she began to read a book to them.
The story was about a jungle party with a new guest arriving on every page.
"Who do you think will arrive next?" she asked the children.  And after the story ended, "If you were having a party, who would you invite?"
Price is part of a program called "Today's Readers are Tomorrow's Leaders" that started when West Central Initiative shared a story about a similar project elsewhere in Minnesota. Becker County Early Childhood Initiative (ECI) coordinator Fran Rethwisch thought the local Kiwanis Club would be a good fit, and passed the idea on to them. Kiwanis members happily got on board.
Since last October, Kiwanis volunteers have read to about 760 children from birth to 5 years old, and have distributed about 800 books. This winter they will once again visit home-based child care centers, church programs, Head Start classrooms and other locations. Kiwanis members were especially motivated after hearing from a kindergarten teacher that children sometimes arrive at kindergarten  unsure how to hold a book or turn its pages. It's one of many ways the Early Childhood Initiative teams up with local groups to achieve great things for Becker County children.
They work with clinics, service groups, mental health   agencies, public health agencies, museums, child care  providers and preschools.
"We've had really good partnering in our community and the people involved are really dedicated to making a difference,"  Rethwisch said. "The ECI coalition is for people to come to the table and share their ideas with others and make connections. We have people who are really invested in young children in our community."  
A few years ago, the ECI connected with the local museum and historical society and a number of individuals and  groups to bring to town life-size storybook exhibits from the Minnesota Children's Museum. Recently, they provided books for an Eagle Scout project filling backpacks for children  entering the foster care system. Now, they're helping Head Start and the Audubon School raise funds for an early  childhood playground in Audubon.  
 "The really neat thing about the Becker County ECI group  is that they have woven literacy into all they do," said Marsha Erickson, program assistant for WCI's early childhood team, which provides some funding for Rethwisch's position and the work she does. "It is easy to buy books and hand them out at an event, but there is no guarantee that anyone will ever read the books to the child. The Becker County ECI has taken it to the next level and has integrated literacy within many areas. It's a way to tell parents and caregivers that literacy is an important part of a child's life."
LEARN MORE ABOUT OUR EARLY CHILDHOOD INITIATIVES. Contact Nancy Jost or Marsha Erickson at 800-735-2239, njost@wcif.org or marsha@wcif.org">marsha@wcif.org. Or visit eci.wcif.org.