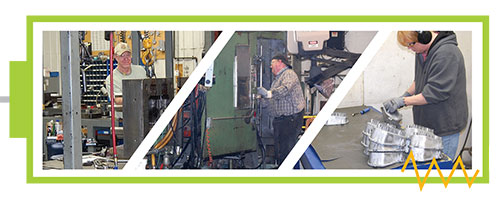 WCI Partnership Helps Company Survive Recession to Achieve Success
When the Great Recession hit DyCast Specialties in Starbuck, President Jon Haavig and Chief Financial Officer Ed Bolas agreed: No layoffs. They cut back on hours, but they still provided paid time off and health insurance and most of their workers stayed with them.
Then they went even further, turning to lean manufacturing practices to boost efficiency. They took advantage of downtime to provide training through West Central Initiative's Workforce 2020 workforce training program. They empowered workers to spot errors throughout the manufacturing process instead of at the very end. They asked customers to forecast their parts needs so that they could supply those parts exactly when the customer needed it. In a very tough economic time, they expanded their customer base.
"We saw it as an opportunity," Haavig said of the downturn.
As a consequence, when the economy started revving up again, DyCast was ready to go.  
Now the 48-worker company runs three shifts, five days a week. Their zinc and aluminum parts are used by high-profile brand name companies that include Land Rover, Arctic Cat, John Deere, Harley Davidson and Polaris. They make components that end up in KitchenAid blenders, Milwaukee tools and telecommunications systems. They make parts for the defense industry. Their biggest customer has become the LED lighting industry leader.
This summer, orders arrived so steadily that they ran shifts around the clock, six or seven days a week.  
Haavig started the company with his father, Tom Haavig, in the Twin Cities in 1983. In 1990, they relocated the business to Starbuck, and that was when WCI first became involved. WCI provided gap financing to enable them to start production in Starbuck. Eight years later, WCI helped finance DyCast's 18,000-square foot expansion.

In 2008, when the recession hit, WCI worked closely with DyCast on loan repayments.

"It was a tough time," recalled Duane Larson, WCI's loan analyst. "They faithfully kept us informed on a weekly basis what their sales were, whether it was good news or bad, and on a monthly statement where they stood with profitability or losses. We had complete faith in what they were telling us and were happy to work along with them."
Their dedication to transparency and to continue operating led WCI to become "as flexible as we could be," Larson said. "Because we're not a commercial bank regulated by state and federal regulations we were able to delay making payments and so forth until things turned around for them."
The initial loan was paid off, he said, and the expansion loan is on track to be repaid within the coming year.
"I would consider them one of our success stories," he said.
For their part, Bolas said WCI has made a huge difference for DyCast.
"The WCI fund has been there when we needed them," Bolas said. "Without the Initiative, we would not be where we are today. WCI is one of the unsung heroes of outstate Minnesota."
WATCH THE VIDEO "Dycast Specialties & WCI: Partners for Success at vimeo.com/wciminn. 
LEARN MORE ABOUT business loans and assistance for start-ups and expansion. Visit loans.wcif.org, or contact Dale Umlauf at 800-735-2239 or dale@wcif.org.