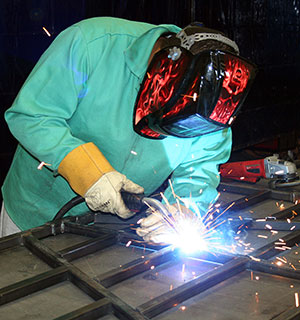 A little more than a year ago, the City of Detroit Lakes held an economic development summit, focusing mainly on the state of manufacturing in the area. Participants included representatives from local businesses, Minnesota State Community and Technical College (M-State), Detroit Lakes High School, the Minnesota Department of Employment and Economic Development (DEED) and the Rural Minnesota Concentrated Employment Program (RMCEP).
The city heard how manufacturers were struggling to find employees, particularly those with the skills to operate machinery.
At the same time, West Central Initiative (WCI) was launching its new Competitive Workforce Grant program. WCI was looking for nonprofits, public schools and governmental entities in the nine-county region to come up with new solutions to workforce development that would speak to the needs of west central Minnesota employers.
The timing couldn't have been better.
G.L. Tucker is the director of manufacturing and technical products at M-State in Detroit Lakes. It's his job to help meet the customized training needs of manufacturers. He worked with six manufacturers and two school districts in the Detroit Lakes, Fergus Falls and Perham areas to create a joint project that would help create a skilled workforce for area employers. The application proposed that this consortium would provide incumbent workers with machining training and mentoring that would advance them from an entry-level job status to operator status and a likely pay raise. In addition, the Fergus Falls and Detroit Lakes high schools would purchase equipment and revise their curriculum in industrial technology to make it more relevant to the needs of local manufacturers.
The proposal was one of six that received a CWG grant."The strengths of this project were: it focused on an industry with a documentedskills gap; it leveraged the resources of multiple partners including high schools, employers and post-secondary education; and they did an excellent job of defining their outcome measures," WCI Program Director Wendy Merrick said of the project.
CWG helps create a spark (literally!) at Detroit Lakes High School
After the grant was awarded in May 2012, Detroit Lakes High School's industrial tech instructor Jerry Paulson and school-to-work coordinator Vern Schnathorst hit the ground running. In just four months Paulson had to develop a new metals fabrication curriculum and turn a former pottery studio into a metals lab. Schnathorst worked with area manufacturers to develop internships and mentorships for students.
Ironically, the metals lab used to be an industrial tech shop before being turned into an art studio. Now, the school needed to start from scratch. Tucker connected Paulson with BTD Manufacturing and the company helped provide top-of-the-line welding equipment for the students.
"It's a good partnership that made it all happen. We need these partnerships. This equipment is expensive," Schnathorst said.
And more partnerships are being cultivated. "TEAM Industries is looking at working with us on CNC machining," Paulson said.
Both Paulson and Schnathorst are encouraged by the new industrial tech program and its potential growth.
"It's good to sit down and talk to businesses about the skills they need. Not everyone wants to go to a four-year college," Schnathorst said.
"A lot of the jobs available [in manufacturing]-- in 9-18 months you can make good money. Some students start at the bottom and go right to the top," Paulson said. In a couple years, we'll have manufacturing curriculum in every grade in high school."
Even with a brand-new curriculum that didn't exist before summer vacation, Paulson filled two classes of 15 students for his fall metals course. Another 60 students in the school's agriculture program are learning welding as well. That makes for a busy shop. Today, snowmobile carts and car top carriers that students have crafted line the room.
Detroit Lakes High School has several school-to-work partnerships. Graphic designers from LakeShirts, a customized apparel company, helped develop the school's computer graphics curriculum. The school works closely with senior care centers to train students to become certified nursing assistants. About two dozen students go through this program every year. Another 15 students just went through a first responders course at Essentia Health St. Mary's Hospital.
"From my perspective, the school-to-work program gives Detroit Lakes High School something unique," Tucker said. "They have strong relationships with area employers and are able to get students into work environments to test the waters."