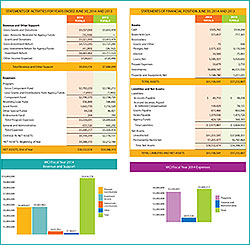 by Sandy King, interim president
Statements of activities... statements of financial position...
That's a lot of numbers, what does it mean?
Recently WCI published our annual report and Communications  Director Sheri Holm used her creativity to produce a short, four-page report that depicts the financial picture of WCI and provided a great visual snapshot of our program impact.  Looking at the first pages and the financial section, you may be wondering "Why does WCI have over $61 million in assets?"  This is a great question, and hang in there with me while I break it down for you.
Over 70 percent of the asset funds represent philanthropy – both in terms of WCI's general endowment and our more than 100 designated funds. Of the remaining 30 percent, over 27 percent is restricted for our programs, which include economic development and community development.  The remaining three percent represents special projects and long-term capital assets, such as WCI's building.  Well then, what does this mean?  And why can't we just give all the money away?
West Central Initiative is governed and lives by the rules set forth by the State of Minnesota and the Internal Revenue Service.  Since our inception in 1986, WCI has been and continues to operate as a public charity.  Under this designation WCI must raise over 33 percent of our income from the general public. I'm happy to report that WCI's current public support percentage is well over 50 percent! This represents the many gifts given by our partner organizations, individuals, local, state and federal government. Each gift that WCI receives is tracked and designated towards a specific use – as per the agreement with the donor.  Gifts come in many different sizes and with many different structures. To this end, WCI exercises our due diligence and follows the rules as set forth by our governing structure.
Philanthropy represents the largest percentage of our overall assets primarily because it includes the permanently restricted endowment fund of WCI.  In addition, WCI administers more than 100 designated funds and their resources are also included in this classification.
"Why do you need an endowment?"
WCI's unrestricted endowment is the financial backbone that supports the many ways we invest resources in our communities for regional success.  We began building the endowment as a permanent asset for the region based on the guidance and encouragement of The McKnight Foundation.  Since the early 1990s The McKnight Foundation has  offered a matching contribution towards gifts received to build a permanent asset for the region.  Over the past two decades, 300+ donors have helped grow the endowment fund to the level it is at today. The unrestricted endowment is YOUR KEY to financial resources for generations to come.  Not only are the earnings from the endowment utilized each year to provide current resources to west central Minnesota, but the goal of the endowment is to be a long-term, flexible resource for the region – for good, forever.
Another good question is "Aren't you a foundation?"
Have you wondered why West Central Initiative doesn't have "Foundation" at the end of our name?  This has been a great discussion item over the years, and since the first board of directors, WCI has committed to being a flexible, dynamic organization.  WCI's core values – community, respect, responsiveness, learning, and stability – are grounded in everything we do.  Keeping our name short and flexible reflects our core values and mission to be more than any one type of organization.  Yes, we do look and feel very similar to a foundation, especially around our work in philanthropy, but it is only one pillar of the work that we are committed to in west central Minnesota.
Thank you for your interest in West Central Initiative – we believe that the best is yet to come and are encouraged by the positive leadership happening in our rural communities.  Together we do make a difference and West Central Initiative is proud to be a partner in your future.