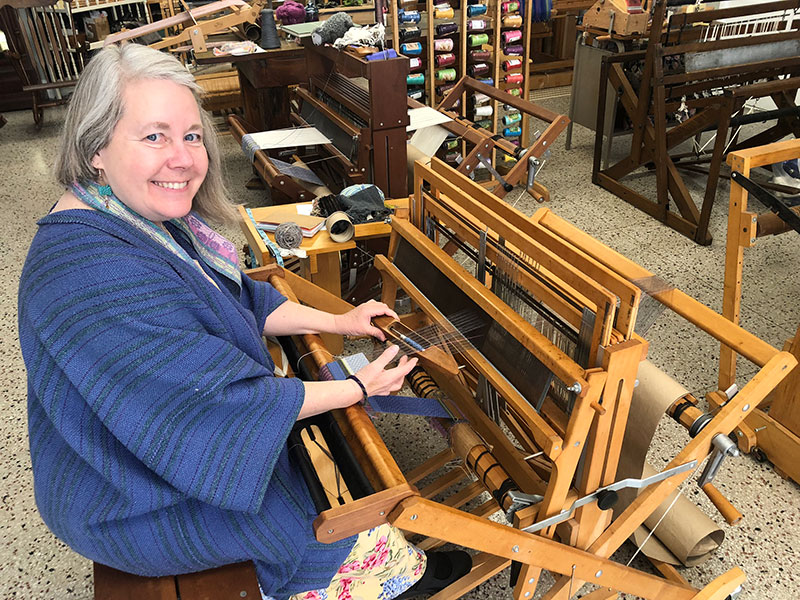 Sometimes life finds you where you are. And sometimes you have to be open to where life takes you.
Victoria Hanna's life has taken her from southwestern Minnesota farm country through the countries of Europe to the mountains of Colorado and back again to Minnesota. Along the way, she was a student, a manufacturing worker, a bookkeeper, a shopkeeper and a shop owner. She had a baby. Got married…and divorced. A member of the sandwich generation, she shepherded her daughter to college while also nursing her dying father. Life changed quickly, but there was one constant: she wove—scarves, wall hangings, rugs, tapestries, elegant shawls. She learned how to use her skills and talents to create pieces that make people see weaving as more than craft but a work of art.
It was by chance that Hanna was introduced to the world of weaving. An art elective in college started her life's passion. She changed her major from theater to studio arts and never looked back.
A year ago, Hanna was hearing a lot about a town in west central Minnesota called Fergus Falls. It was getting to be known as an arts center. She decided to check it out for herself and liked what she saw. In quick order, she found a small studio at the Kaddatz Lofts that offers space for artists to live and work, and a downtown apartment just a block away. She was able to weave, teach and sell her art at the Kaddatz Galleries right in the same building as her studio. But the studio was cramped. Hanna has close to a dozen looms of varying sizes and many projects going at once. She needed more space. Six months later, she heard a storefront was available and took a look. It was a good size, with sinks and running water—which she did not have in her current studio—and just happened to be in the same building as her apartment.
She went to the city's economic development groups and to Springboard for the Arts to find out what resources were available to help her start up her business. Their response was the same: talk to West Central Initiative. That led her to WCI's Business and Economic Development Director Greg Wagner.
"I met with Greg and he recommended applying to WCI's Small Enterprise Loan Fund," Hanna said. "The loan helped pay for the damage deposit, rent and some inventory. It was enough to get started."
She took possession of the store in January of 2018 and a month later, Torri's Tangles to Treasures was open for business.
There's something of a living museum feel to the store with its many looms, some very old. But it's juxtaposed with Hanna's own modern take on weaving mounted on the walls. There's a table out front filled with Hanna's latest creations, and rocking chairs in the back where people are welcome to sit in camaraderie with their own handiwork.
Hanna never works on one project at a time. One loom holds a commissioned piece that's 68 feet in length. At a smaller loom is a long weaving that will be turned into elegant jewelry bags. A vertical loom shows off a tapestry Hanna is creating.
During a visit to Hanna's store you can buy her one-of-kind creations, from shawls ("fresh off the loom") to notecards, and commissioned items like skeins of yarn and a couple adorable knitted baby garlic-bulb hats with the greens sticking out on top.
Hanna has a vision for her store that includes working with local shepherds to produce bespoke lines of yarn. And she plans to hold classes. She is also available to teach weaving one-on-one.
Recently, she held the shop's first Fiber Fun Day, where visitors could watch artisans demonstrate their fiber arts skills, buy original pieces and take a turn at making their very own work of art. It was a full house.
"I have found that owning and operating my own business is the most satisfying work I can do," Hanna said. "Every day brings a new challenge, and demands skills in advertising, bookkeeping, organization and communication. Tangles to Treasures is the culmination of years of experience and allows me to provide a community space where I can practice and share my love of art and fiber. I am so grateful to WCI, Springboard for the Arts and the incredible community of Fergus Falls for helping to make this dream a reality."
Would you like to learn more about West Central Initiative's loan programs? Visit loans.wcif.org, or contact Greg Wagner at  greg@wcif.org or 800-735-2239.