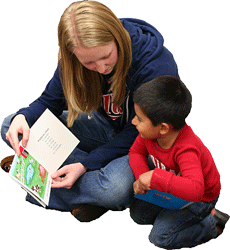 Our Morris Area School transition team formed to improve school success for all children. Over the past five years we have worked to better communicate information between early childhood and kindergarten teachers, align curriculum preK – grade 3, and  build relationships with children and parents prior to kindergarten entry. 
Each year, a team from our school participates in the school readiness forum sponsored by West Central Initiative. This forum has provided us with the resources to continue this work. We created a work plan to meet the goals listed above. Our team consists of kindergarten teachers, preK teachers, ECSE teachers, Head Start teachers, elementary principal, school counselor, public health nurses, and literacy coaches.  
Some of our accomplishments:
Created a developmental checklist for children to be used in the spring prior to entering kindergarten. This provides information for parents and teachers about developmental strengths and concerns. 
Cumulative files that now start when the child is screened or upon entry to a school based Pre K program. This file is then used for K-12. 
Kindergarten, ECSE and Pre K teachers meet to discuss the incoming kindergarten children, their strengths and needs. The team creates classes that best meet the children's needs to help them be successful. 
We held a Café Conversation for all early childhood professionals, focusing on including child care providers in the conversation. The goal of the meeting was to better communicate and share information between early childhood and kindergarten teachers. 
As an attempt to align curriculum and also respond to the need for social/emotional support for all children, we will implement the Second Step curriculum in Head start, school based Pre K and private Pre K programs. In the elementary school, the 2nd,4th and 6th grade already participate in Second Step, and we will also be adding Second Step to Kindergarten. This will provide an alignment of important social/emotional skills and experiences for children Pre K – grade 6. 
We created an Early Childhood Review Team that includes representatives from Public Health, Human Services, ECFE, ECSE, Head Start, Mental Health professionals, child care providers, and others as appropriate. An important goal is a place for all referrals to start. From here we will review referrals and plan for early intervention services. We make an effort to connect with the family through existing relationships.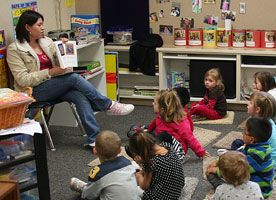 Time is our biggest struggle. Everyone is busy. Time for team meetings is a barrier. We have been fortunate to have grant dollars to support our work and have paid for substitute teachers so kindergarten teachers can attend the forums (usually on a Monday in March). We also provide pay for teachers to attend the transition meeting we have in May. The teachers find this so helpful in preparing for the children and for creating classes that will benefit students. Our team has knowledge of the incoming kindergarteners and we need to use the information for school success. 
We continue to work on building relationships with children and parents prior to kindergarten entry. There are many educational programs and support for children and families and we are working to communicate more effectively between programs to make sure we are reaching as many families as possible. Early intervention is important for school success, so our team is also improving the early childhood screening and referral process.