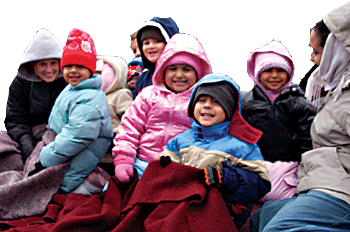 Pelican Rapids PreK-gr 3 Alignment has been focused in the last six years on becoming more formal and intentional in outlining expectations from each grade level. Specifically in 2011 we have developed Essential Learning Outcomes (ELOs) for age 4 through grade 6. These ELOs provide the expectations per trimester per grade level. The ELOs are for parents and throughout school use so expectations are clear. It is through sharing this information between early childhood and kindergarten teachers preK – grade 3 alignment, and beyond, that we are building relationships both professionally across grade levels but also with child/parent as kindergarten entry nears. 
In March, a team from our school participates in the school readiness forum sponsored by West Central Initiative. This forum has provided us with the resources to continue this work. We created a work plan to meet the goals listed above. Our team consists of kindergarten teachers, preK teachers, ECSE teachers, Head Start teachers, elementary principal, and translators. Some of our accomplishments include: 
Cumulative files that now start when the child is screened or upon entry to a school based Pre K program. This file is then used for K-12. 
Kindergarten, ECSE and Pre K teachers meet to discuss the incoming kindergarten children, their strengths and needs. The team creates classes that best meet the children's needs to help them be successful. 
Supported mutual training opportunities for preK-gr1 staff in both Handwriting and Music.
Through Tier 1 collaboration once per month, subs are provided in the preschool and Head Start classrooms to allow horizontal collaboration for teachers of our 3-5 year olds. 2-3 times year we are able to vertically collaborate with Kindergarten teachers to continue our alignment. (Each grade level has this opportunity 2 / month in our district, our district added preschool in 2010 to the 1/month rotation of collaboration)
Offer In home visits to 5 licensed providers and 5 FFN providers to connect literacy and referral options for our youngest folks.
Development of ELOs. A very specific trimester based checklist.
For future plans, we will continue to develop ELOs for our three-year-old population and to expand our current Checklist to include all the domains of ECIPs beyond literacy and math.